Sue Sobocz, Provost and Chief Academic Officer, shares what we can expect from Walden Magazine.
Dear Walden Community,
As you know, at Walden we believe in the power of education to create lasting change. We are energized every time we see members of our Walden family using their new skills and experience to turn their beliefs into sustainable, positive social change in their communities and workplaces.
As you'll see, this magazine is filled with inspiring examples, and there are a few alumni I can't resist pointing out. Dr. Vonetta George is improving patient care in her native Antigua and Barbuda as chief of surgery, working in emergency, surgical, and critical care areas. Dr. Mona Alnaeemi draws on her experiences as a refugee to mentor and empower other immigrant women. Ivy Staten-Minor is a police sergeant who makes an impact in her community through the power of communicating with empathy and compassion. These changemakers, like so many of you, are using their education for good.
I am also excited to see the impact of our latest Mobilize for Good initiative. Growing up, I looked forward to going to the library every week and checking out as many books as I could. I know not everyone has that same opportunity, so I'm excited that Walden is creating and stocking mini libraries in communities that can really benefit from them.
Thank you for all that you do to turn belief into action!
Sincerely,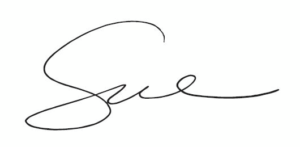 Sue Subocz, PhD
Provost and Chief Academic Officer
Walden University