Having dedicated her career to healthcare, Betty Jean "BJ" Ezell decided to pursue a Doctor of Public Health (DrPH) from Walden University. While this decision might sound ordinary, it's actually quite extraordinary when you consider she was 70 years old when she graduated.
 From there, this lifelong learner took a detour from her retirement plans to help others during the pandemic.
She now works with the Florida Department of Health (FDOH) in Citrus County, where she plays an important role in fighting the spread of COVID-19 in underserved communities.
"The need found me instead of me finding the need," she says. "It's been an incredibly rewarding experience."
Ezell says she owes it all to the power of education. Throughout her doctoral preparation, she conducted extensive research and wrote papers on COVID-19 vaccinations, including how to move communities from vaccine hesitancy to vaccine confidence, leading her to become an authority on the topic.
She credits being a member of the Black community and her ability to connect with those who "look like me," as she puts it, for helping her develop trust with those she serves. And the proof is in the numbers: Since March 2021, Ezell has co-hosted over 27 faith-based COVID-19 vaccination events, resulting in the administration of more than 1,500 doses.
Finding Her Calling
Interestingly, Ezell's previous career found her as well. She went into nursing after a devastating automobile accident at the age of 21. A full recovery wasn't expected, but when it happened, she knew she had found her calling. "You can't pay back everyone who helped you and treated you during that kind of recovery, but you can certainly make a commitment to help others," she says. "So, for me, the best way of helping others was going into nursing."
In 2010, a colleague who was a student in Walden's master's in health informatics program encouraged Ezell to pursue the same degree alongside her. Ezell had become increasingly fascinated with technology's role in healthcare. In 2013, she and her colleague—now friend—earned their MS in Health Informatics degrees from Walden. Ezell went on to become a clinical informatics healthcare project manager.
She began Walden's DrPH program in 2015. The prospect of being the first "doctor" in the family intrigued her. "Choosing Walden for my doctorate was a no-brainer," she says. "I think a Walden degree puts you ahead of the competition. I wanted a school that had a reputation that says, 'We're not giving away degrees. You have to earn it.'"
She credits her husband for providing the support she needed throughout the program. As a full-time professional working nontraditional hours in hospital leadership, she was on-call 24/7 in addition to completing hours of schoolwork. "There were times when he would drive me to work so I wouldn't have to worry if I was sleepy or tired. He would pick me up from work if I was late getting out of work," she says. "And he would get me home, put the food on the table, [make sure] the house was clean. He'd roll me into bed, roll me back out in the morning, and we'd start all over again."
In fact, Ezell's husband is even beside her in her graduation photo, "because it's our degree," she says. "He knew what I wanted to do, what God had asked me to do. … I'm so grateful."
Leading by Example
Education has always played a significant role in Ezell's life. She first became aware of the power of education from the women in her family. "It wasn't until I had some older cousins who were educators who came to visit my parents that I realized, 'Oh, my goodness, people go to college, and they have careers,'" she says.
With six children, 11 grandchildren, and five great-grandchildren, Ezell now has many looking up to her as a role model—something she takes seriously.
In fact, she was so serious about her doctoral goal that she bet her grandkids—signed contract and all—that she could earn her degree before they earned their bachelor's. She won—but the real payoff was seeing how achieving her goal has influenced the younger generations in her family.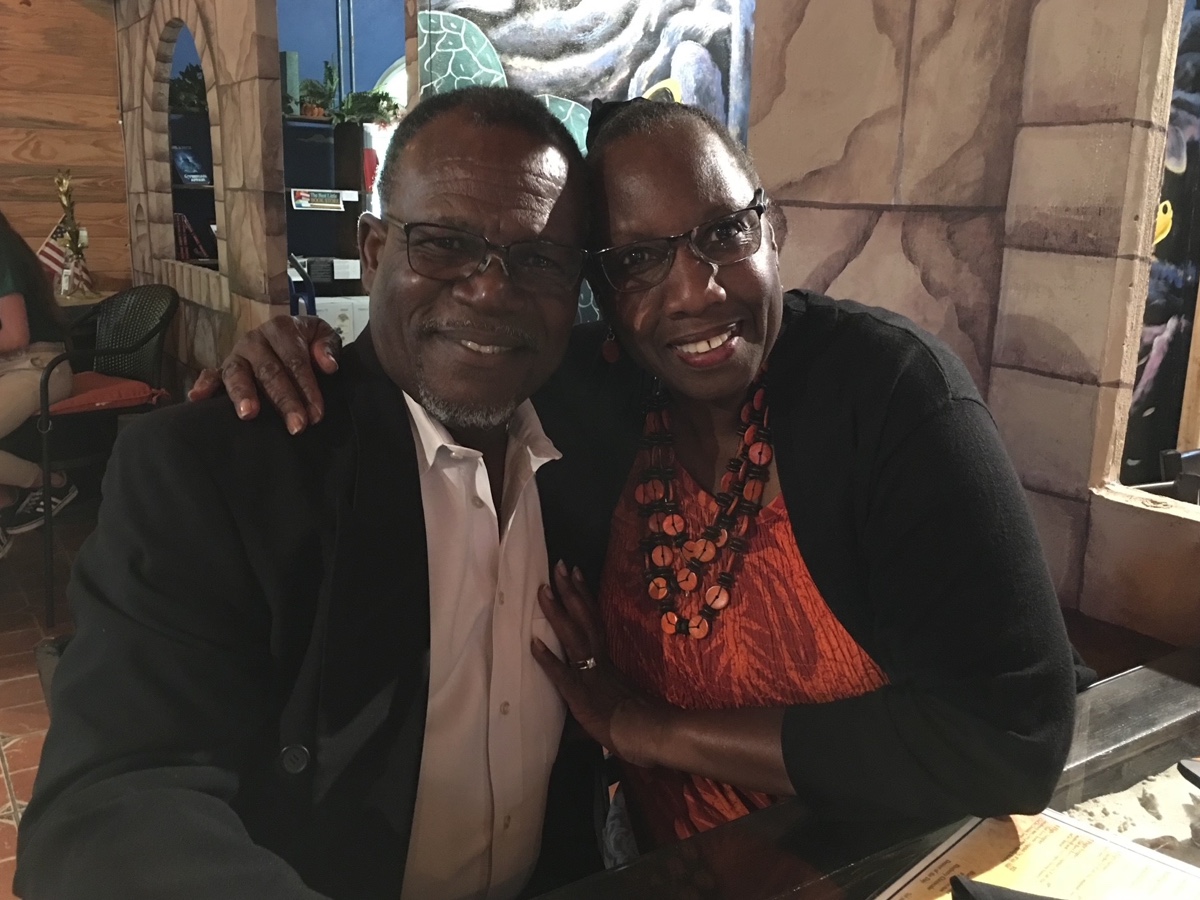 For Ezell, whose parents did not complete high school, earning her doctorate shows you can be anything you desire as long as there are people in your life encouraging you. "It means that the American dream is alive and well," she says. "It means there are opportunities that I now have that I would not have had."
Knowing her family will be able to not only take care of their own needs but also the needs of others gives her great pleasure. "We know that to be our legacy, and [each generation] is showing us that with the choices that they make," Ezell says. "We've done our jobs."
Her Purpose Is Personal
Helping others is Ezell's passion—it's what she does every day. But her work also has a deeply personal connection. Her brother-in-law died from COVID-19 complications. "It's very personal to me," she says, explaining how she shares her story with others and provides credible information to help more family members, friends, and strangers to make informed decisions for themselves and their families. As a result, many have become vaccinated.
These days, Ezell even uses her knowledge to educate members of her church. She recalls past conversations with her pastor, who would say, "We're all here for a purpose. Do you know your purpose?"
Ezell can now answer that question. She knows she has found her purpose. "Education has brought me to this point. Even at this wonderful age of 71, this is what I am called to be doing."